Professional Advisors
At Conservation K9 Consultancy we consult and work with some of the leading experts in Conservation and Dog Training. Below are some of the partners we work with and their areas of expertise.
Karen DeMatteo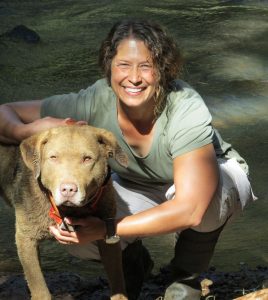 Karen is a biologist that holds appointments at Washington University in St. Louis (WashU), the WildCare Institute at the Saint Louis Zoo, the University of Missouri-St. Louis, and Universidad Nacional de Misiones (UNaM – Argentina). When she is not teaching Geographic Information System (GIS) courses at WashU, she can be found in the field exploring her passion for research. Her studies are focused on the biology and ecological interactions that occur at species and community level. She has used a variety of approaches to address these research questions, including ecological genetics, GIS technology, behavioral ecology, physiological ecology, reproductive physiology, ecological niche modelling, and conservation detection dogs. Her research has been conducted with both wild and captive populations, as the latter can provide insight into basic biological parameters that may be impossible to collect in the field. While Karen has conducted field research in several locations in the US and South America on a variety of species in diverse habitats, the majority of her studies have been focused on understanding community structure of carnivores and the ecosystem they exist in.
Her main ongoing project is a collaborative study in Misiones, Argentina with colleagues from the UNaM, Instituto de Biología Subtropical, Grupo de Investigación en Genética Aplicada, Ministerio de Ecología, and Ministerio de Educación. This project uses a suite of techniques not previously used in the region: detection dogs to locate scats, genetic analyses of scats for species/individual/gender identification, and GIS technology. Together these techniques have been used to open new doors in the region by allowing: 1) access to biodiversity independent of habitat type, protective status of the land, and degree of human occupancy, 2) data to be collected on multiple species simultaneously and independent of their rarity, 3) access to not only to species presence but also to the number of individuals and their gender, and 4) comprehensive conservation models built using data on multiple species. Their successful application to design a ~400,000ha multispecies corridor that connects existing protected areas in the northern-central zones of Misiones provided local partners a place to start conservation efforts that have been discussed for many years.
While this project started with the bush dog, a special passion of Karen's, the project now includes five carnivores (jaguar, puma, ocelot, southern tiger cat, and bush dog) and four prey that are important to these carnivores but also targeted by poachers (tapir, white-lipped peccary, collared peccary, and paca). On-site programs have expanded the number of persons able to train and manage detection dogs, with projects that include various primates and the maned wolf. Future expansion will include cross-training police/military detection dogs to locate illegally trafficked wildlife, a major problem in the region.
Throughout all of this work and other collaborations, Karen remains obsessed with ensuring the quality of work generated by conservation detection dogs is kept at a consistently high level. This is especially true with handler training, which she sees as the most challenging part in the equation. With the expansion of detection dogs into so many new areas, odors, and situations, seeking advice and guidance from experts is something she is a big believer in. The use of conservation detection dogs has incredible potential for success; however, if care if not taken, the failures can be even more dramatic.
Paul Bunker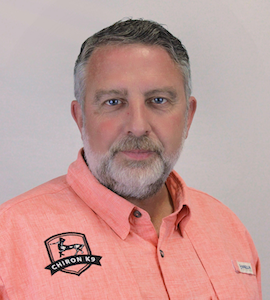 Paul Bunker is the Principle and owner of Chiron K9, LLC, a canine consultancy and training organization based in San Antonio, Texas. Paul has a full spectrum of expertise in canine services, from procurement and evaluations to imprinting and training.
He served in the British Army as a Canine Trainer/Instructor/Assessor for over 22 years and was responsible for the establishment of several special projects in canine detection capabilities. Paul has co-authored numerous published papers in canine detection as well as participating in detection research with leading Universities and agencies.
His passion for wildlife has combined with his particular skill set to support conservation canine projects, including establishing bespoke training programs. He is an accomplished presenter and award-winning instructor. With the company motto "Success Through Innovation" he brings customised approaches to unique problems.
Nikki Glover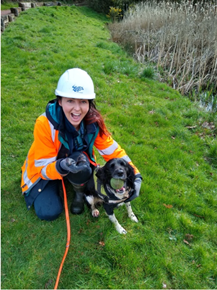 Nikki Glover is a great crested newt (GCN) detection dog handler working for Wessex Water and a Masters by Research student at the University of Salford looking at factors influencing the detectability rates of GCN detection dogs. Nikki's supervisor is amphibian specialist Dr Robert Jehle, who has carried out radio tracking studies on GCN as part of his PhD research.
Nikki has been training continuously with Louise Wilson since 2017 as a wildlife detection dog handler.
GCN are a legally protected species. All activities involving the disturbance of GCN requires Natural England licencing. Since 2018, Nikki has held seven Natural England research licences for the temporary and permanent possession as well as disturbance of wild GCN for the purpose of training GCN detection dogs and undertaking research trials.
Nikki has utilised her GCN detection dog Freya to assist with the translocation of GCN to enable essential pipeline works to take place. This work has involved working on greenfield sites as well as on active construction sites.
Nikki, in partnership with Louise, offers bespoke GCN detection dog consultation including:
Initial discussion on process to become a GCN detection dog handler
Advice on applying for GCN detection dog licences through governing bodies
Writing Risk Assessments and Method Statements
Biosecurity procedures
GCN husbandry
Training procedures
Search protocols
Factors influencing detectability rates of GCN
Assessment protocols before operational deployment
Operational deployment
Maintaining professional operating procedures
Lucy Bearman-Brown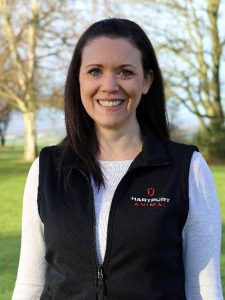 Lucy Bearman-Brown is a senior lecturer in zoology, with specialism in mammalian ecology and human-animal interaction. Her passion for wildlife conservation led Lucy to undertake research in Nicaragua and South Africa, and the results being presented in Europe, the United States and Australia. Her current focus is on the impact of humans on the much-loved European hedgehog, for which Lucy has appeared on BBC 1's Countryfile and The One Show and BBC Radio 2's The Chris Evans Breakfast Show, and in many publications including BBC Wildlife magazine and The Sunday Telegraph.
Lucy completed a BSc (Hons) in Animal Science at Nottingham Trent University where she focused her research on the water shrew. This led to her spending several months in the cloud forests of Nicaragua surveying the biodiversity of this little-studied Central American country, then on to complete her MRes in Biodiversity and Conservation at the University of Leeds in 2008. After teaching at Nottingham Trent University Lucy moved to Gloucester to join the team at Hartpury University in 2010. Since then she has taught a variety of subjects, with particular favourites being Wildlife & Zoo Management, Conservation Biology and the overseas Field Course module, which is delivered at a private wildlife reserve in South Africa. Lucy completed her PhD with the University of Reading in 2021, which focused on the impact of human activity on hedgehogs. As part of her thesis, Lucy undertook a study exploring the value of detection dogs for hedgehog surveying, which was published in the Journal of Vertebrate Biology in December 2020.
Publications
Bearman-Brown, L. E. et al. (2020) 'Over-winter survival and nest site selection of the west-European hedgehog (Erinaceus europaeus) in arable dominated landscapes', Animals, 10, p. 1449. doi: 10.3390/ani10091449.
Bearman-Brown, L. E. et al. (2020) 'Comparing non-invasive surveying techniques for elusive, nocturnal mammals: a case study of the West European hedgehog (Erinaceus europaeus)', Journal of Vertebrate Biology, 69(3), p. 20075. doi: 10.25225/jvb.20075.
Schaus, J. et al. (2020) 'Application of the Random Encounter Model in citizen science projects to monitor animal densities', Remote Sensing in Ecology and Conservation, p. 10.1002/rse2.153. doi: 10.1002/rse2.153.