We are in the business of education. Conservation K9 Consultancy is proud to deliver workshops, presentations, demos and educational services to your conservation organisation, education facility and dog handling teams.
Our complementary services offer the chance to learn from an expert detection dog handler, we can educate and inform all ages from primary school to university graduates the innovative and pioneering methods of non-invasive survey methods and wildlife crime detection using dogs; our presentation also includes slides and in-depth discussion of our worldwide case studies. With practical demonstrations by operational detection dogs, we hope you will that you find our presentations engaging and motivational – and be amazed at the virtually limitless applications for our world-class detection dogs.
Working in schools, universities and with education providers we give an inspiring and innovate demonstration and presentation, involving students and sparking everyone's enthusiasm. Children and adults alike are bound to enjoy it, these presentations can be created where students get involved with simple training tasks and handling opportunities.
Working with Outreach programmes and Growing Confidence projects Louise has a way in grasping children's and teachers interest in such an exciting and unique subject, leaving people inspired and eager to be a dog trainer and handler one day.
Interested? Contact us for more information about our dog detection services or to arrange a presentation at your establishment.
International Conferences and Seminars
Louise travels far and wide to run these workshops, demonstrations and presentations to increase the awareness of dogs working in conservation and helping stop wildlife crime. As well as bringing the use of dogs in conservation to the forefront of wildlife monitoring and detection in specialist fields such as ecology and wildlife biology.
Louise has travelled the world and been lucky to have worked in some amazing places, South Africa, Gabon, Tanzania, Mozambique, Montana and all over Europe giving her a wealth of knowledge she is more than willing to share in her talks.
Nose Work/Scent Work Courses & Training
Due to increase demand, Louise now regularly travels Europe running scent workshops for pet dogs and novice handlers to help with pet dog wellbeing and rehabilitation. Proving how important scent detection is for pet dogs as well as working dogs- to help focus dogs and give any dog an outlet for their energy, helping long term to reduce unwanted behaviours.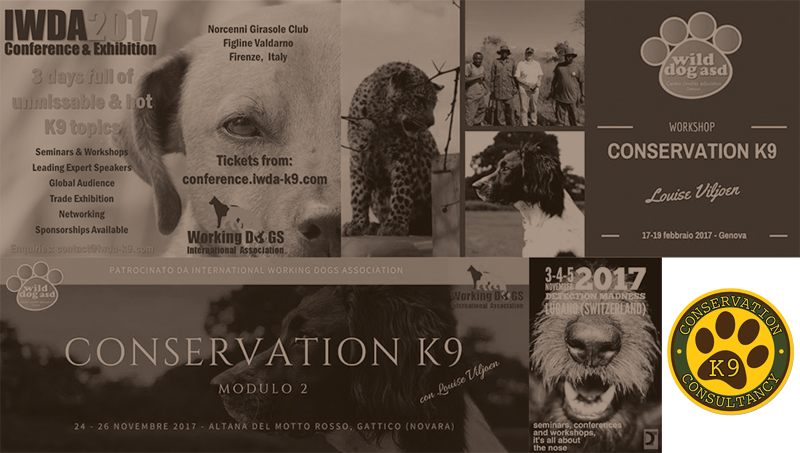 "I had a great day with Louise and her lovely dogs on one of her 'Train with the Trainer' days. It was fabulous to spend time with Louise and work with each of her dogs, who are at various stages of training on different scents, and I learnt such a lot from the experience. Louise's breadth & depth of scent detection experience and knowledge is amazing and she instinctively knows how to adapt and progress each training session to suit the dog, the environment and the target scent.
Not only is Louise a great dog trainer – she is a great person trainer too! She provides a calm, positive and supportive environment to learn in, gives really good feedback and is brilliant at taking the learning from each session forwards to the next.
Louise's enthusiasm, energy and passion for her work is inspirational and I would recommend her courses to anyone interested in scent detection."
Jenny McKenna
FdSc Canine Behaviour & Training